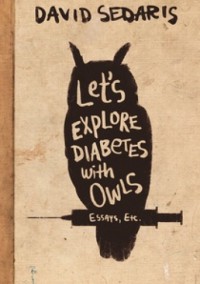 I wanted to read something different from my normal genres, so I entered the
goodreads giveaway for this book (My unbiased review follows)
Never read Sedaris before, but I can see why he is so popular. His humor reminds me of Seinfeld a little.
The first half of the book, especially the chapters that he talks about his father seemed a bit sad to me. I was thinking "Hey isn't this supposed to be funny?" I kept feeling sorry for the child Sedaris instead of laughing with him.
I really didn't start enjoying the book until about the midway point. My favorite chapter was #2 to Go! I was cringing and laughing out loud at the same time. Other faves were
Just a Quick Email
Author, Author
Understanding Understanding Owls
Happy Place
Everything averages out to a 3 out of 5, and I would not mind reading more of his work. Other reviews mention that this was not his best, so maybe I will pick up some of his earlir books.